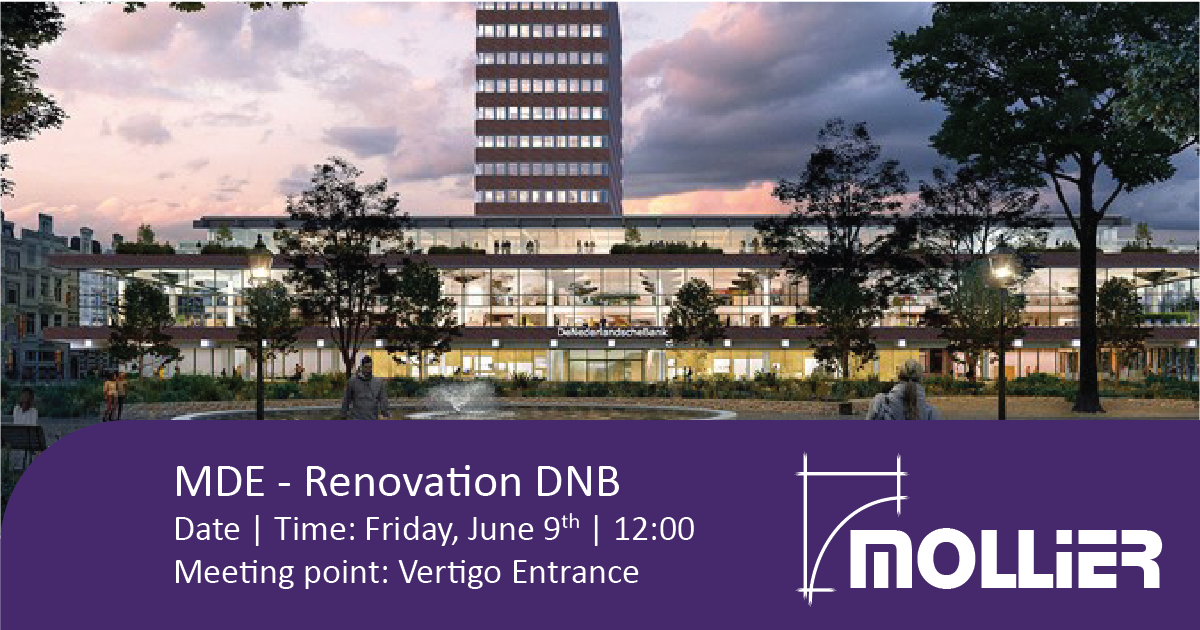 MDE – Amsterdam
Location
De Nederlandsche Bank, Amsterdam
On the 9th of June, together with SPIE, Mollier will visit the construction site of De Nederlandsche Bank in Amsterdam!
De Nederlandsche Bank (DNB) is currently renovating its head office in Amsterdam. After 50 years, the building has become outdated. The renovation focuses on creating a sustainable, flexible building that is more accessible to the public.
Prefab elements from the old round tower have been disposed off in an environmentally friendly manner for reuse and some of the concrete will also be used again in the renovated head office.
Program
12.00 am: Gather at Vertigo
12.15 – 13.30h: Travel to Amsterdam
13.30 – 14.00h: Arrival at the DNB construction site
14.00 – 16.00h: Presentation & Tour of the DNB construction site
16.00 – 17.00h: Drinks afterwards
18.00 – 20.00h: Dinner at Cafe Weesper
If you want to know more about this project, you can visit
Renovation of DNB's head office and A sustainable, renovated head office (dnb.nl)
Additionally for just €25, you can join this excursion and some fun activities on Saturday near Amsterdam, including a visit to the Jopenkerk brewery in Haarlem. This contribution will include everything (transportation costs, all meals, the hotel stay and the fun activities) 🚅🥙🛌🏼🍻.